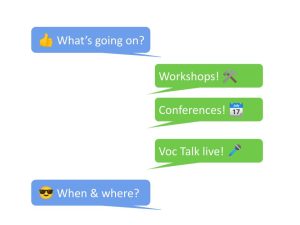 Ah, yes.  The modus operandi of professional development in education.  Teachers working with the classic academic subjects have an affinity with this formula to improve their skills, but for those in vocational training, not so much.  I often think about this, and wonder why it is so.  I speculate that it might have something to do with professional development in the trade, and how there aren't many trades that have this type of PD, gravitating naturally to a more hands-on approach.  Different trades improve their skills and knowledge in different ways – cooks do it by changing kitchens and working with other chefs; IT by following updates about changing commands and new software trends, and health care workers by being part of an order with a professional learning network.
Over the years I have attended many educational conferences, and yes, they are very geared toward the youth sector.  I always manage to take something away from them, but there are few that really are for vocational teachers.  They deal with adult learners, practical skills and have hands-on, DIY activities:
Journée Pédagogique Nationale en Formation Professionnelle (JPNFP) every November
Anglophone Community Expo (ACE) every March
Quebec Advisory Council on Vocational Education (QACVE) every two years in May
These conferences have mixed formulas – in-person, hybrid or online – depending on the sponsor.  For the third year RÉCIT, our provincial technology in teaching support network hosts the online  Anglophone Community Expo or ACE on March 16. Vocational and Adult General teachers come together for workshops and conferences in the morning, and an Ed Camp in the afternoon.  The workshops are about all kinds of stuff that touch teaching in the vocational sector – cool tech tools, nifty learning projects, interesting discussions and most of all, how to use all of it in real vocational situations.  Definitely sign up to go, and if you have been thinking about sharing something that you do, you should!  When we teach, we are always looking for things that inspire us, tips and tricks that can make our teaching a bit smoother, and ways to discuss issues that are bothering us.    Want to see what I am working on for this year's conference?  Click here to see!
Nifty!
Would you like to participate with your Happy Teaching Moment?  You're doing a great job, and your fellow teachers would definitely appreciate a voice that they can relate to.  If you would be so kind to share three teaching moments with me, I will create the infographic for you, and send it to you for your approval!  Unless, of course, you really want to do it yourself, and then I would say go for it!  Click here to send me your Happy Teaching Moments!
Happy teaching!
Robin